Beach & Swimming Pools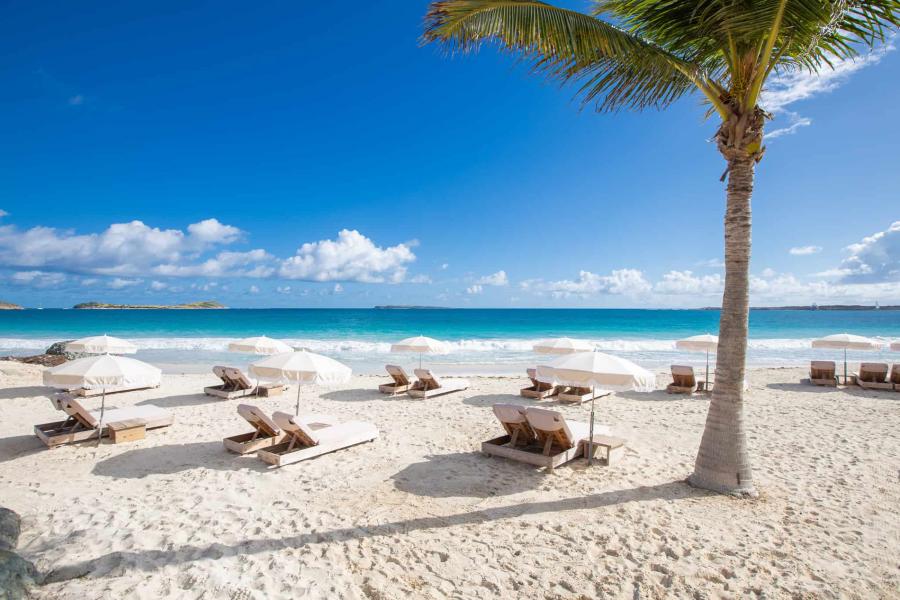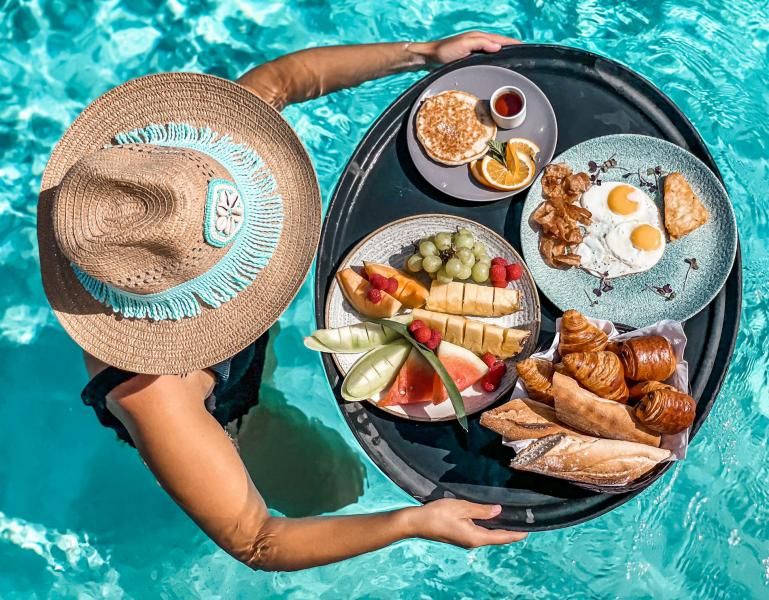 Swimming Pools
The Hotel Esmeralda has 14 swimming pools reserved for the exclusive use of the guests who share the villa.
Each has 3 to 4 bedrooms and/or suites maximum.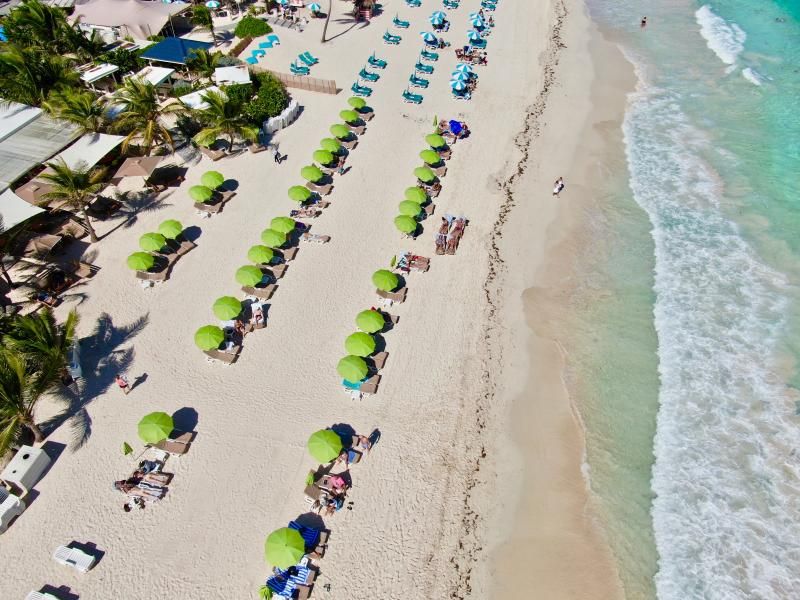 The Beach
Direct access from the hotel
Orient Bay Beach is spectacular, one of the most beautiful on the island. Its white sand provides a striking contrast with the incomparable turquoise of the sea.
Gently caressed by the trade winds, it is the ideal beach for those who just want to relax and for water sports enthusiasts alike. It has catamarans, windsurfing, surfing, jet skiing, water scooter, parasailing... A multitude of activities for all tastes.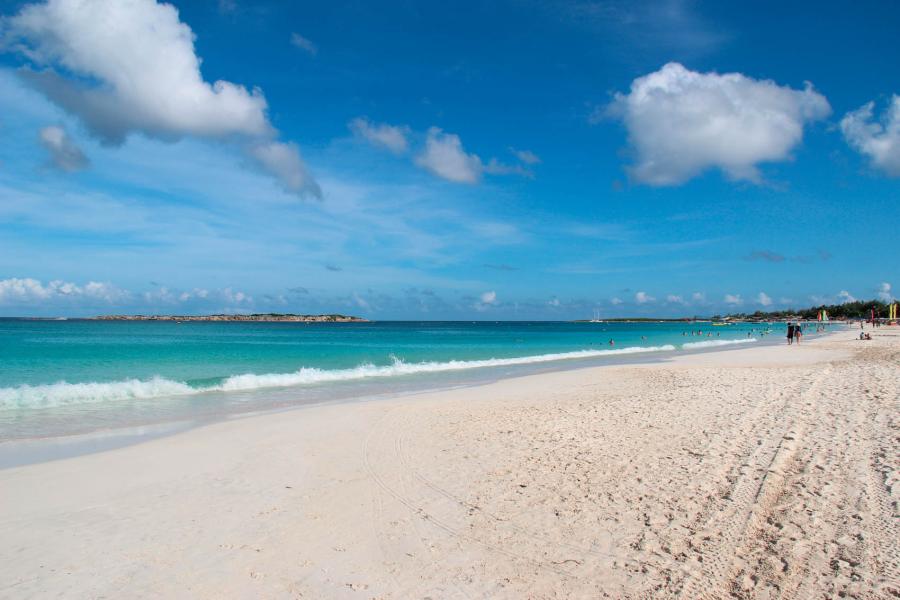 Many restaurants with a fresh and dynamic atmosphere have made a major contribution to its reputation, so that it's now regarded as the essential Caribbean beach.
With the client privilege card given to you upon your arrival, you can pay for your expenses in these restaurants directly at the hotel prior to your departure.
Sun loungers and umbrellas are offered to all our customers in 4 magnificent beach restaurants: KAKAO, BIKINI, WAI PLAGE, and KONTIKI.
Restaurants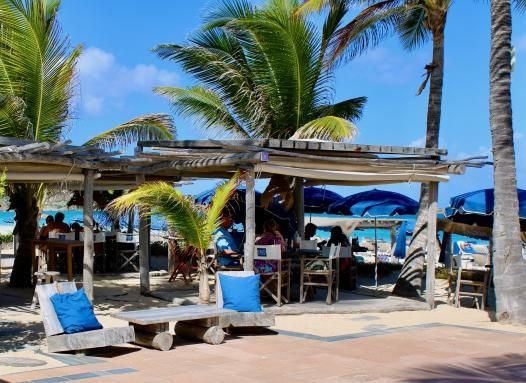 The Kakao welcomes you in a sublime setting of greenery, woods, and warm sand, facing turquoise water. The menu features timeless classics to take you on a journey. Recipes inspired by Nikkei cuisine, with subtle Caribbean touches, are offered to make your experience unforgettable. If you like music, you'll be pleased to know that, once a week, KAKAO creates a party atmosphere that will make you want to dance barefoot on the sand, with a delicious cocktail to hand, and the sea stretching to the horizon!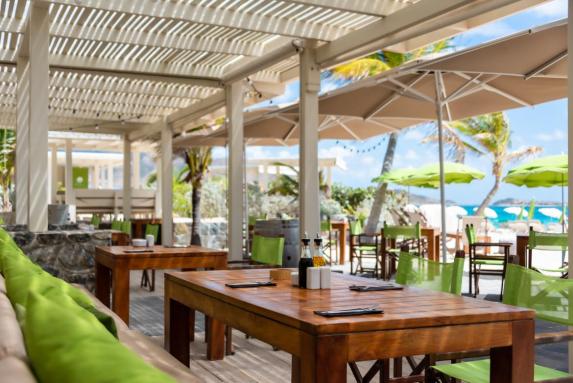 A cosy cocoon conducive to relaxation and inviting you to sit down on the sand or on the deck of its terrace. You are sure to appreciate the sublime landscape facing the sea and the warm hospitality of the restaurant's attentive team. The Bikini welcomes you every day. Chill out and sip one of its incomparable cocktails and enjoy some of the secret ingredient house tapas, along with beetroot hummus, Cajun squid and beef tacos.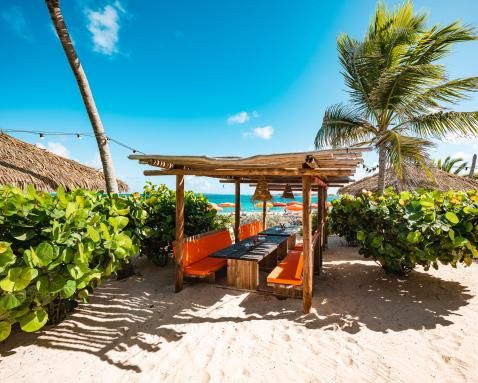 You can settle down at the Waï Plage for a day relaxing next to the sea, soaking up the bright colours and tropical atmosphere, and enjoying a gourmet break in the shade. The Wai Plage offers you a Franco-Caribbean menu with that exquisite blend of flavours for which Saint-Martin is justly famed. This charming restaurant holds a music evening once a week.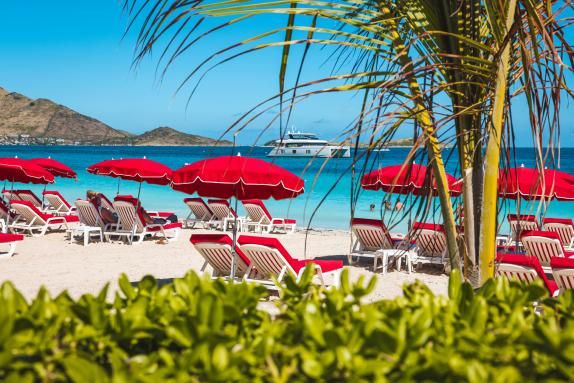 Between palm trees, fine sand and clear water, the Kontiki reveals a menu full of subtle flavours, including tasty dishes for vegetarians. If you fancy a snack with a cocktail, you will discover a fine range of tapas, before indulging in the starters and salads, or the menu of wraps, sushi and burgers.
Gourmets will gaze with breathless anticipation at the choice of elaborate dishes based around meat and fish. The dessert menu is a mouth-wateringly tempting pleasure to read and is sure to seduce you into indulging in a tasty treat or two.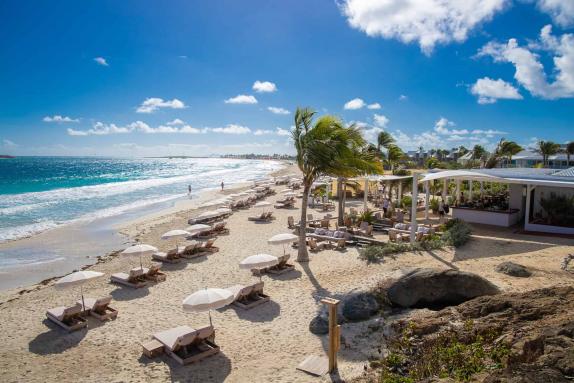 COCO BEACH
Want a relaxing and gourmet getaway in an exceptional establishment offering a multitude of flavours?
Head to Coco Beach, a welcoming restaurant located directly in front of the hotel. There's a special rate for deck chairs and umbrellas that has been negotiated especially for our guests. The chef, Laurent Saudeau (2 Michelin stars), offers a cuisine featuring the world's finest flavours and dishes that combine originality and simplicity. Each space in the restaurant has been designed and created to evoke a timeless atmosphere and guarantee ultimate comfort. The team is dedicated to providing attentive and sincere service every day, meeting your needs with professionalism and a smile.